You might have seen thousands of investment banking resume examples, but only one will work for Wall Street.  Whether you are a college student looking to break into investment banking or already an ibanking analyst, it is critical that your resume checks all the boxes.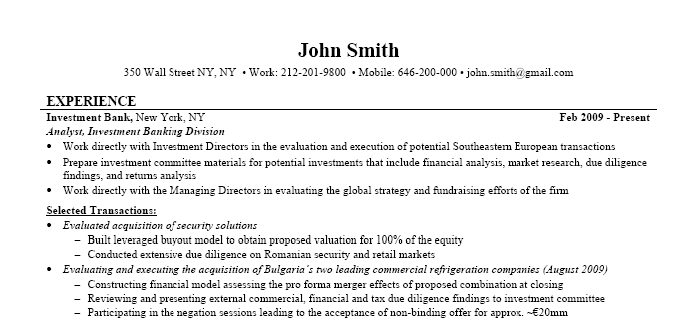 I've seen thousands of resumes and without the right resume, it doesn't matter how smart or hard working you are, you won't get in the door.   Most people think they have a good resume, and many do, but Wall Street recruiters are looking for a very particular resume style.
When you are applying for positions, recruiters and investment bankers will spend about 30 seconds or less looking over your resume – first impressions are crucial and the formatting matters.  From my experience, poor resumes fall into one or the other of these categories:
College Student Resumes: Somewhat good content but poor resume template
Investment Banker Resumes: Good template but poor detail and descriptions
Street of Walls offers Investment Banking Resume Services where we will completely re-build your resume.
Other interesting articles: