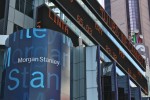 Company Overview:
Morgan Stanley was founded by J.P. Morgan & Co. employees Henry S. Morgan, Harold Stanley and others in 1935. The corporation is a financial services corporation with offices in 36 countries and a workforce over 60,000.
The firm now holds $779 billion in assets and services corporations, governments, financial institutions and individual clients with global wealth management, institutional securities and investment management.
Company Information:
Throughout its history, Morgan Stanley has been revered for pioneering the global expansion of finance and capital markets.   Now with its 3 major divisions, the firm covers all financial services.  Global wealth management provides investment management services for individuals of high net worth; institutional securities provides capital raising and financial advisory services; and asset management provides services to corporations, non-profit organizations, governmental agencies, insurance companies, and banks.
Company Controversies:
Morgan Stanley paid billions of dollars in settlements enforced by the Attorney General of New York, the Financial Industry Regulatory Authority, the Securities and Exchange Commission, and various state securities regulators.  The settlements related to fraud charges against retail investors.
In 2004, Morgan Stanley was forced to pay $54 million in a sex discrimination settlement suit brought by the Equal Employment Opportunity Commission.  Additionally, Morgan Stanley was forced to pay $19 million in fines to the New York Stock Exchange for regulatory and supervisory lapses.
Notable Personnel:
James P. Gorman – President and Chief Executive Officer
Frank Barron – Chief Legal Officer
Walid Chammah – Chairman and CEO, Morgan Stanley International
Kenneth M. deRegt – Global Head of Fixed Income Sales and Trading
Greg Fleming – President of Investment Management, President of Morgan Stanley Smith Barney
Ruth Porat – Chief Financial Officer and Executive Vice President
Jim Rosenthal – Chief Operating Officer
Colm Kelleher – Co-President, Institutional Securities
Paul J. Taubman – Co-President, Institutional Securities