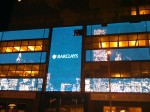 Company Overview:
The British global investment bank Barclays Capital was formed in 1997 from Barclays Global Investors, following Barclays PLC's acquisition of Wells Fargo Nikko Investment Advisers in 1995, which was consolidated with BZW Investment Management.  Now the investment banking division of Barclays PLC, Barclays Capital holds $1.497 trillion in assets, with $13.28 billion in revenues.
Barclays Capital works with conglomerate corporations, large institutions and government sectors to advise it on investment financing and risk management.  Following the September 2008 acquisition of Lehman Brothers, Barclays Capital now has offices in 29 countries, with over 20,000 employees and another 7,000 IT personnel.
Company Information:
Barclays Capital currently has two co-CEOs in Rich Ricci and Jerry del Missier, who have led the company to massive success and growth since 2004.  Organizational growth expanded to $6.4 billion in 2004, providing approximately 30% of corporate revenues for Barclays PLC.
This increased success enabled Barclays Capital to purchase the North American investment banking and capital markets business of Lehman Brothers in 2008.  By acquiring Lehman Brothers, Barclays Capital expanded its global presence to the US, thereby becoming a major player in all lines of business in every major world market.
Company Controversies:
The Guardian UK reported on its website in March 2009 that Barclays Capital had avoided corporate taxes, and that the organization intended to use approximately $15 billion in loans for hundreds of millions of dollars in tax breaks.  In response to the story, Barclays PLC took an injunction against the paper to take down the report from the website, due to the confidentiality of the documents.  These documents have since appeared on WikiLeaks.
Barclays Capital was also revealed to have links to arms manufacturers.  A 2008 report from British anti-poverty charity War on Want stated that Barclays Capital, as well as Barclays PLC as a whole, provides banking and lending services for arms companies.  In fact, the report documented that Barclays PLC is the largest global arms investor, with approximately $10 billion in shares of arms manufacturers; among these manufacturers are developers of depleted uranium, which is used to create nuclear arms.
In a report from World Development Movement in April 2011, Barclays Capital was revealed to be among the world's largest speculators of food commodities.  The report stated that approximately Barclays Capital generated $46 million in revenues in food speculation.
Notable Personnel:
Jerry del Missier: co-chief executive of Barclays capital/ co-chief executive of corporate & investment banking
Eric Bommensath: Managing Director and Head of FICC at Barclays Capital, responsible for the Fixed Income, Foreign Exchange, Commodities, Emerging Markets and Prime Services businesses globally
Gerald A. Donini: Head of Equities, and Head of Trading, Americas
Guglielmo Sartori di Borgoricco: Managing Director and Head of Distribution
Larry Kantor: Managing Director and Head of Research
Patrick Clackson: Managing Director and Chief Financial Officer of Corporate & Investment Banking,
Rich Ricci: Co-Chief Executive of Barclays Capital and Co-Chief Executive of Corporate & Investment Banking
Robert Morrice: Chairman and Chief Executive of Barclays in Asia Pacific
Benoît de Vitry: Managing Director and Chief Operating Officer of Corporate & Investment Banking
Iain Abrahams: Managing Director and Head of Structured Capital Markets and Principal Investments
Hugh (Skip) E. McGee III: Managing Director and Head of the Global Investment Banking Division
Ivan Ritossa: Managing Director and Head of Latin America, Central and Eastern Europe, Middle East and Africa
Michael Evans: Managing Director and Head of Human Resources for Corporate & Investment Banking