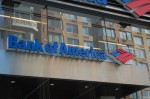 Company Overview:
Bank of America Merrill Lynch was formed on January 1, 2009, upon the completion of B of A's acquisition of Merrill Lynch. The wealth management division of B of A, Merrill Lynch brings B of A the world's largest brokerage with 15,000 financial personnel and $2.2 trillion in assets. This division now specializes in providing financial advising on trading, lending, risk management, mergers and acquisitions, equity and debt capital markets, liquidity and payment management, and various investment banking activities.
Company Information:
Since the acquisition of Merrill Lynch, B of A reorganized into 4 divisions: Asia Pacific, Europe/Middle East/ Africa, Latin America, and the U.S./ Canada, with approximately 300,000 personnel worldwide. As a result, B of A Merrill Lynch generated a 6.8% global market share in investment banking in 2010. This was due to the division's becoming the top revenue-grossing investment bank worldwide in leveraged loans and asset-backed securities, in addition to becoming the second highest revenue-generating investment bank globally.
Notable Personnel:
Susan Bies, former Governor of the Federal Reserve Board
William Boardman, former Chairman of Visa International Inc.
Frank P. Bramble Sr, former Executive Officer, MBNA Corporation
Virgis W. Colbert, (69), senior advisor, MillerCoors Company
Charles K. Gifford, former Chairman, Bank of America Corporation
Charles O. Holliday, Chairman, Bank of America Corporation, former Chairman and CEO of DuPont
D. Paul Jones, lawyer and former CEO of Compass Bancshares, a Birmingham, Alabama bank now part of Banco Bilbao Vizcaya Argentaria SA
Brian T. Moynihan, President and Chief Executive Officer, Bank of America Corporation
Monica C. Lozano, Publisher and Chief Executive Officer of La Opinión
Walter E. Massey, former Chairman, Bank of America Corporation, President Emeritus, Morehouse College
Thomas J. May, Chairman, President and Chief Executive Officer, NSTAR
Donald E. Powell, former Chairman of the Federal Deposit Insurance Corp.
Charles O. Rossotti, (68) senior advisor, The Carlyle Group
Thomas M. Ryan, President and Chief Executive Officer, CVS Caremark Corporation
Robert W. Scully, former member, Office of the Chairman of Morgan Stanley